Level 3 Emergency Ukraine
On 26 February 2022, following the invasion of Ukraine, The Adventist Development and Relief Agency (ADRA) scaled up its operations to deploy humanitarian assistance for children and families displaced by the war in Ukraine. ADRA launched a fundraising campaign to strengthen programmes for refugees from Ukraine and other global communities.
We have and will continue to respond to the needs of displaced people. With the involvement of hundreds of Adventist volunteers, ADRA's teams currently provide humanitarian support in Ukraine, neighbouring countries, and host communities.
Our current activities include:
• humanitarian aid transport and distribution (food and non-food items)
• cash support
• distribution of welcome packages on the borders and in host communities
• accommodation for the refugees and internally displaced people
• transporting refugees to their final destination
• basic medical support
• health checks
• small children and baby care
• education in emergencies
• protection activities like safe places for women and children
• care for the elderly and disabled,
• mental health support (in-person and online)
• charging communication devices, power banks
• legal advice
• support for host families
• food trucks
Highlights of ADRA Europe Response
• ADRA had a presence in all countries before the crisis
• Large proportion of response through cash assistance
• Reinforcing local initiatives through micro-grants
• Strong collaboration with the church
• Cross border cooperation growing stronger
• ADRA becoming stronger on protection and MHPSS
• Volunteer management is strengthening
• The capacity of ADRA offices is growing rapidly
• Partnerships and funding are diverse
What can you do?
Help us remain ready to respond when emergencies happen by donating to the emergency fund.
Mariia with her two children arriving in Poland.
After fleeing Ukraine and being separated at the border from her husband, Mariia continues to travel on with her two sons into Poland. ADRA was able to hear her story and provide her with needed items to continue her journey.
ADRA providing items at a refugee transit center in Poand.
ADRA Poland Country Director Piotr is working on the front lines, talking to refugees and helping hand out food and basic necessities to Refugees arriving at the transit stations across the border with Ukraine.
Volunteers from ADRA Romania organising an aid convoy to Ukraine.
Since 27 February 22, ADRA Romania has transported several convoys of aid across the border into Ukraine for ADRA Ukraine to assist refugees and families there. here they are busy loading vans with matresses.
ADRA volunteers in Romania are busy organising refugee stations.
With so many refugees crossing the border ADRA has set up several stations where refugees can collect much needed items and receive information on where they can sleep, access transport or contact family.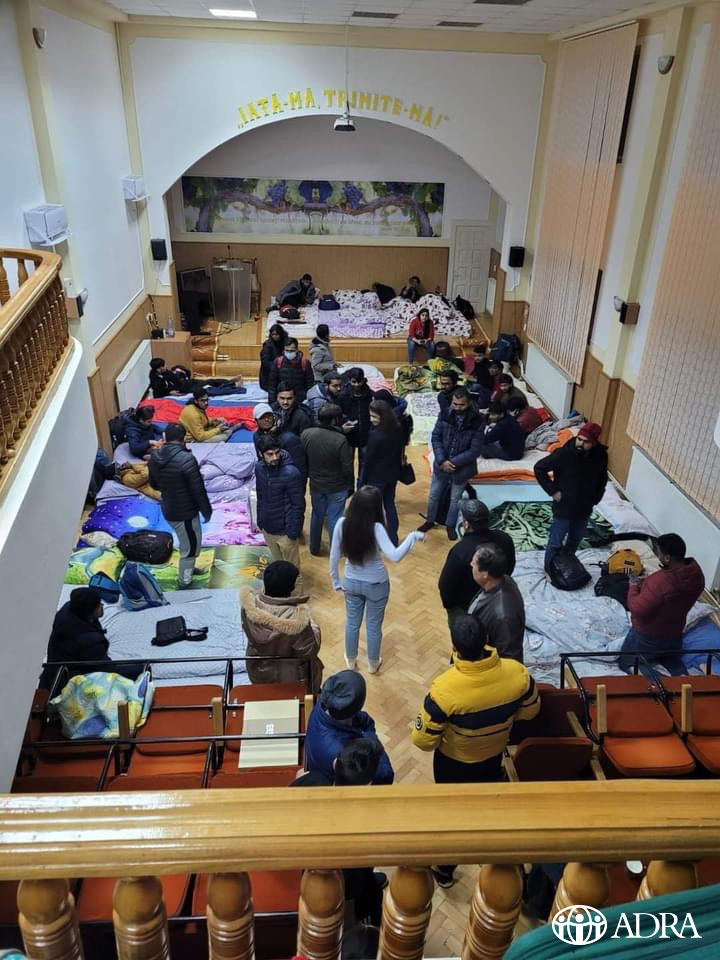 A church in Romania being used as a refugee shelter.
ADRA working in partnership with the local SDA churches in Romania have transformed several churches and health centers into refugee shelters where people can sleep, eat and get information.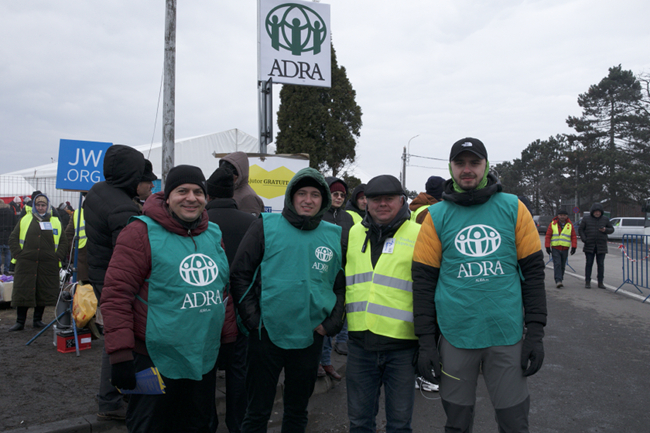 Translator Volunteers at the border of Romania with Ukraine.
These are some of the ADRA volunteers who greet the Ukrainian refugees the moment they cross the border into Romania. Gabriel Ichim, in the yellow vest, was the very first translator to arrive to this border crossing last week to welcome Ukranians in their native language. Today, he continues to help translate for those working with ADRA to find shelter, transportation, food, water, clothes, blankets, medicine, and more.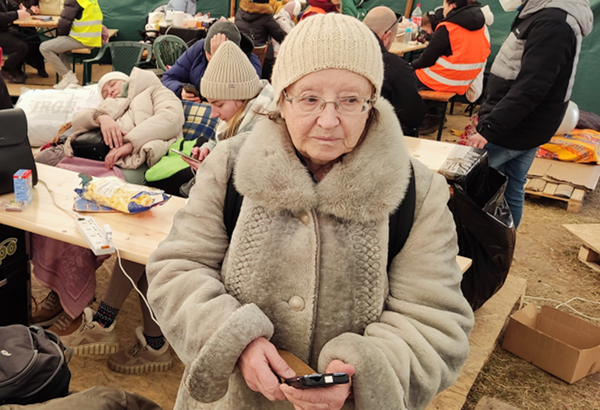 Nina, an 82 year old grandmother rests at an ADRA refugee shelter in Slovakia.
The night before ADRA met her, she boarded a train
with her sister and her sister's husband to escape the conflict in Ukraine. Here they will safely rest and wait for their transport before travelling on to meet her son and his family who will welcome them in Germany where they now live.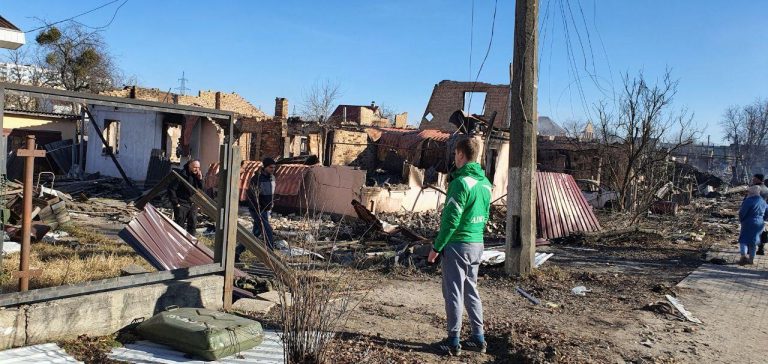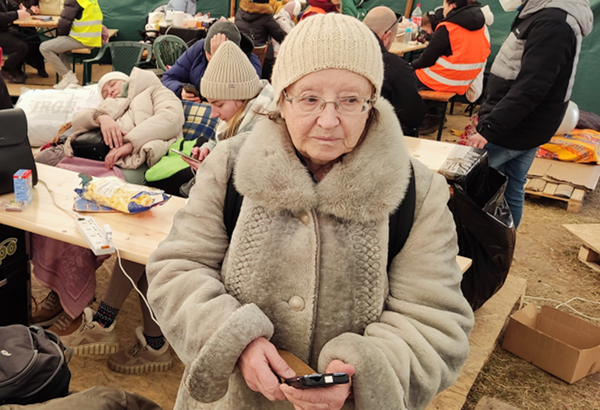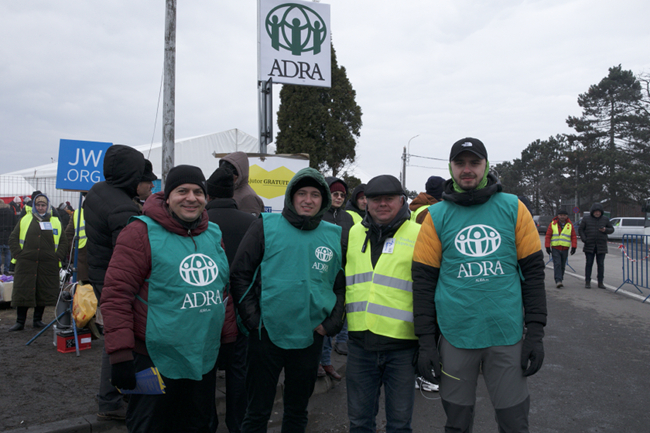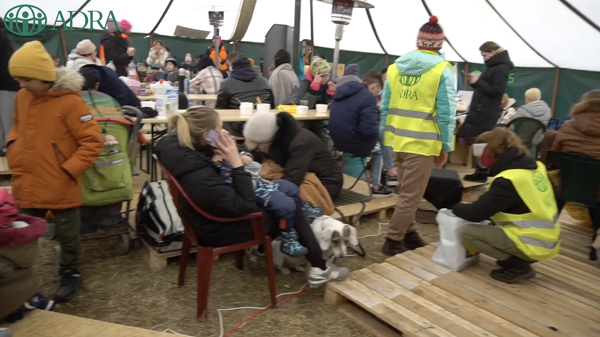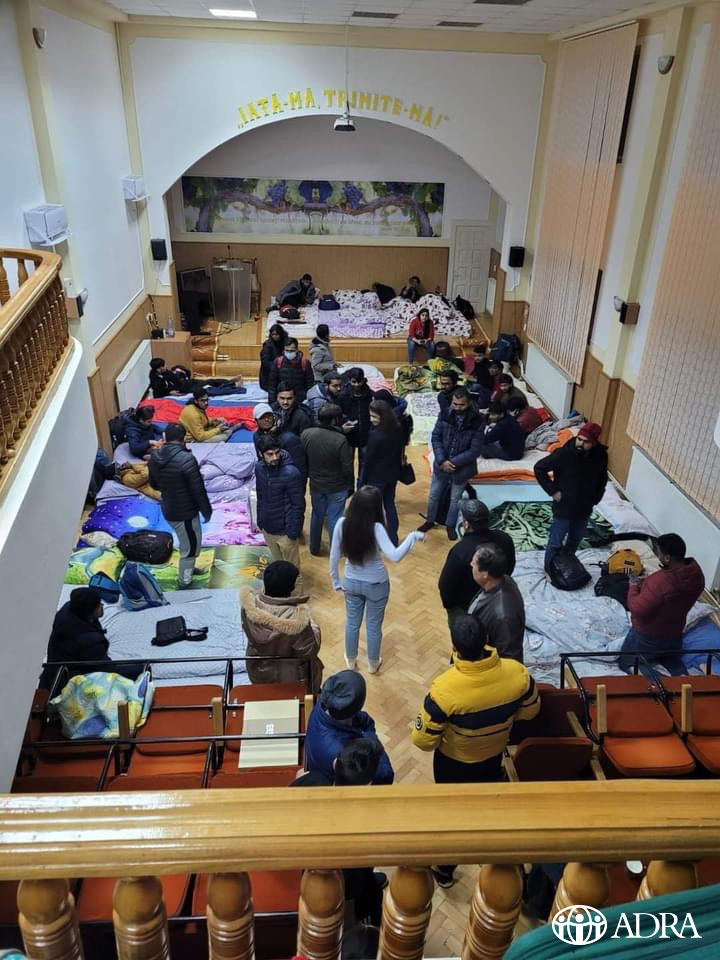 UPDATES:
 28 February 2022
Over £20,000 raised through ADRA-UK to assist Network response.
3 March 2022
Over £32,000 raised through ADRA-UK to assist Network response.
According to the UN, over 1 million refugees have now fled Ukraine spilling over into neighbouring countries.
At least 227 civilian deaths have been recorded, but real toll is likely higher.
8 March 2022
Over £53,000 raise through ADRA-UK to assist Network response.
£25,000 transferred to ADRA Ukraine for local response.
More than 10 ADRA offices directly responding in neighbouring countries or assisting directly transitting refugees.
14 March 2022
Aid convoy of 11 trucks from Bulgaria and Romania  reached Ukraine over the weekend.
Our UK fundraising is approaching £100k but the needs continue.
Today we are supporting the $500,000 ADRA Romania network response proposal with a grant of $50,000.
Please continue to support ADRA's work!
16 March 2022
Today we are supporting the $500,000 ADRA Poland network response proposal with a grant of $25,000.
ADRA has opened three warehouses in Ukraine to support internally displaced persons (IDPs)
12 May 2022
This map shows the current operational presence and response locations for Ukraine.
In Romania, work is focused at main urban centres, transit points, border towns and border crossings.
In Poland, the work is focused on church shelters and locations with more refugees
In Hungary, the work is focused mostly on Bucharest, but also on border areas, and cross border support
In Slovakia, the support is being provided through 8 centres and then operations to support cross border transport of family food and NFI boxes